european terror threat


Short Story: Al-Qaida wants more french fries?
Long Story: I once heard that nothing compares to Paris in October. Okay, I've never heard that, but even if I had, I have to imagine it wouldn't ring quite as true this year. What with all the terror threats out of the Arabian Peninsula from Al-Qaida going on there these days. I mean, they had to evacuate the Eiffel Tower twice last month, and word on the street from Saudi intelligence is that an attack on France is "imminent." What I don't get is why the terrorists would ever target France? I mean, sure, they're a little snooty sometimes, but from what I can gather, they're mostly harmless. Are they blocking the export of french fries to Muslim countries? Are they banning traditional Muslim women's wear in public? Oh, really? They are? Well, come on, it's France, you know how seriously they take Le Fashion!

Jean-Claude Van Damme
October 15, 2010: Jean-Claude Van Damme Day! - The Muscles from Brussels turns 50!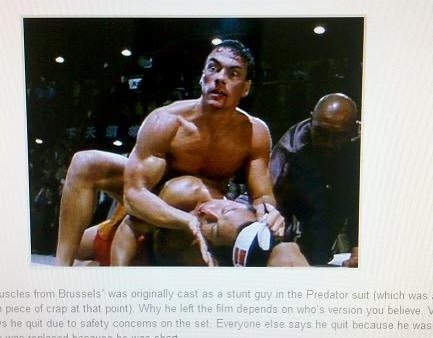 WHY?: His full name is Jean-Claude Camille François Van Varenberg, which is certainly enough to make you say "God Damme!" He was named Mr. Belgium before immigrating to the U.S. in 1982, and achieving massive success in Hollywood in classic films such as Bloodsport, Hard Target, Double Impact and Kickboxer, although one of his first roles was as "Gay Karate Man" in a film called Monaco Forver. But, don't get it twisted, a regular ladies man, he has been married 5 times. We haven't heard much from JCVD since he appeared on Friends in 1996, but there are rumors that he suffers from bipolar disorder, although I assume this means he cycles between awesome and really, really awesome.

TOMORROW'S contenders:
Evander Holyfield - Remember when Mike Tyson bit off his ear and threatened to eat his kids?
Trey Parker - One half of the human half of South Park.
Jon Favreau - The dude from Swingers! No, not Vince Vaughn…the other dude.

TOMORROW's POTD
brett favre taiwanese recreation
The Taiwanese do it again? How is this not have a full-time show on HBO by now?

back to the future anniversary
What are we celebrating? How we haven't even come close to inventing a realistic hoverboard yet?

chiefs porta potty drill
This would be a lot more embarrassing if you weren't getting paid millions of dollars to do it…I think.

t-rex was a cannibal
Put this one in the obvious news category. Look for the follow-up story: Dinosaurs Were INSANE!

sesame street black girl hair
Is this video a little racist, or am I a little racist for thinking it's a little racist? I don't even know.